'Tis the season for gathering around the... laptop. *sigh*
Okay, this probably isn't going to be the instagram-worthy Thanksgiving you were imagining back in January. Who would have thought that entertaining family sitting around the dinner table would involve a strong WiFi connection? Do we need to dress up our dogs in turkey costumes because there's no one else to play with? Can we still even have Thanksgiving?
The answer is a resounding yes. It might not be what you're used to - the hugs will be virtual, the laughs will be remote, and freezing will be done on-screen instead of during post-dinner snowball fights - but one thing will remain the same: THE DELICIOUS FOOD!
As always, Thanksgiving is the one day of the year that we've got permission to not only whip up a scrumptious feast, but to enjoy eating every last bite of it before passing out on the couch. We might just have to re-think a few things this year. Fortunately, if there's anything the #CAULIPOWERcrew likes more than the holidays, it's re-thinking stuff. Afterall, we turned cauliflower into a pizza crust?! This is kind of our specialty ;)
So, while you're busy reinventing the way you do the holidays, we're reinventing the dinner at the center of it all. Here's a cornucopia (sooo Thanksgiving!) of non-traditional Thanksgiving dinner ideas to keep you in the festive-while-socially-distant spirit. Oh, and don't forget to unmute yourselves!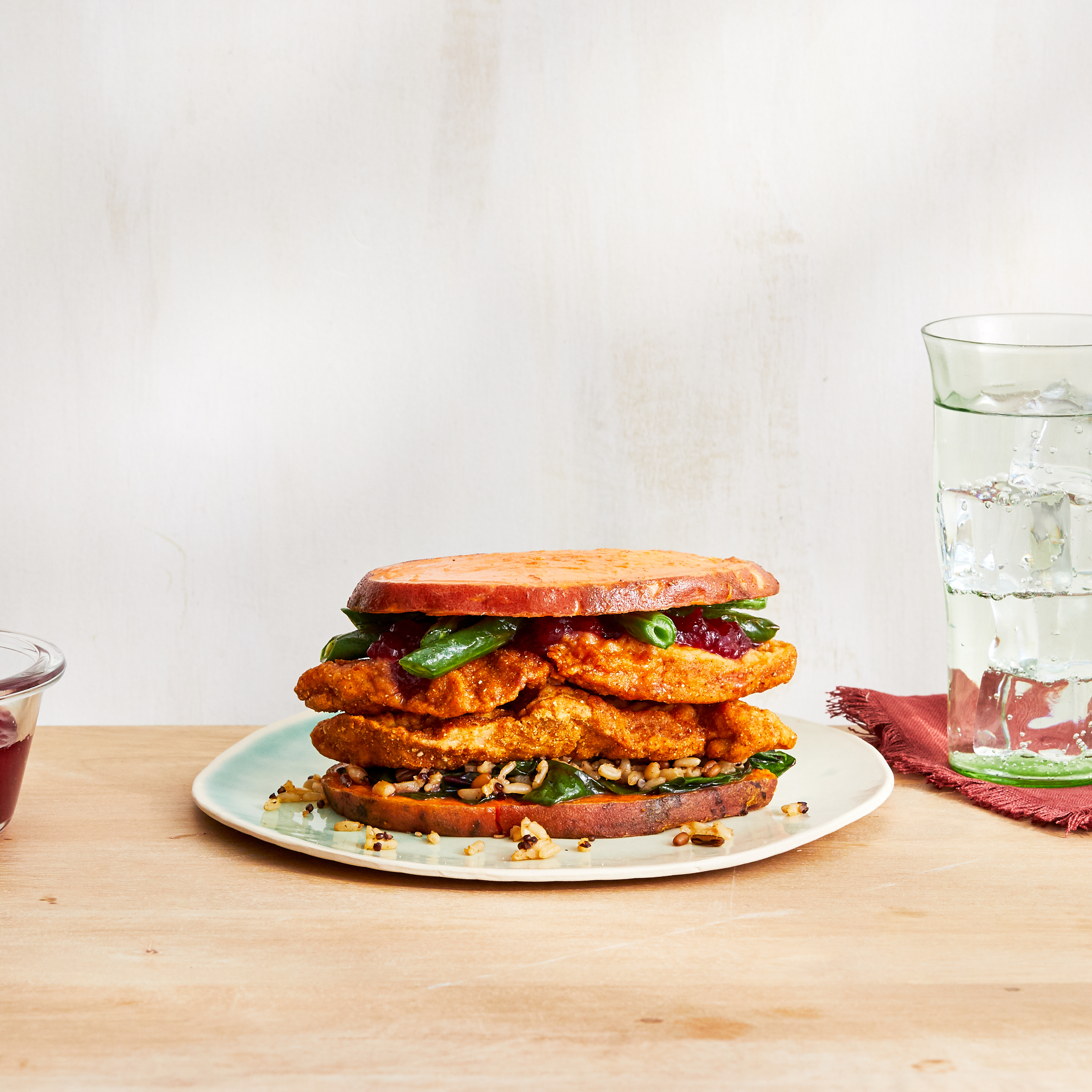 'Everything But The Turkey' Chicken Sandwich

Let's face it. Plenty of people don't even like turkey. Luckily for you, this recipe is the perfect opportunity to ditch the dry turkey leg for juicy chicken tenders. But, don't worry, it still feels (and tastes!) like all the best parts of Thanksgiving – Cranberry jam gives a dash of sweet, farro brings a nutty balance, and last but not least, swapping the bread for crispy, nutritious Sweet PotaTOASTS ensures a mouth full of Thanksgiving flavor.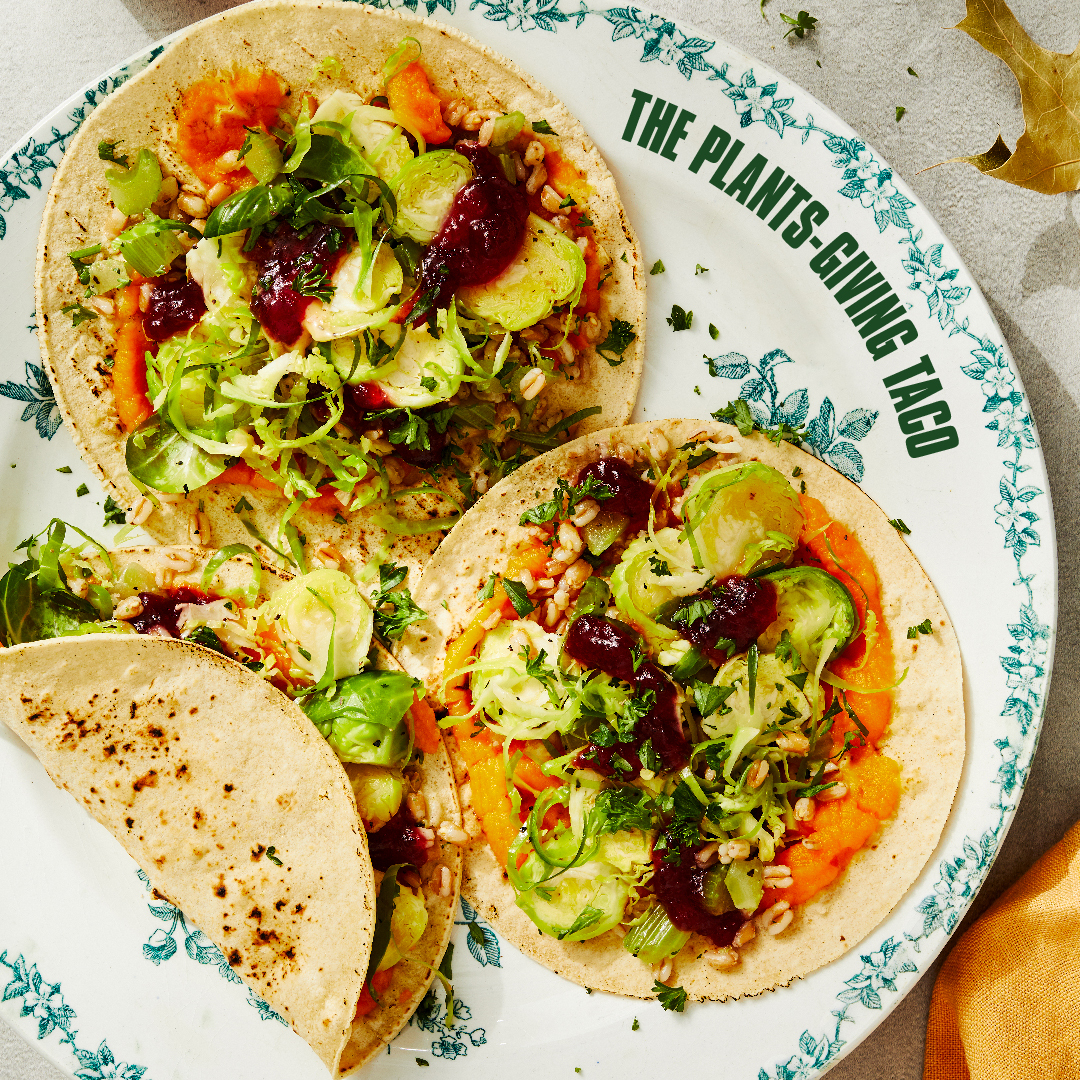 This one's not even close to traditional, but that's the point. This Thanksgiving is a chance to think outside the box. Be bold. Create new traditions. With tacos.
Yup. Tacos.
Lots of us look forward to Thanksgiving dinner for the sides, so we're promoting a new side dish to the main course. Our delightful mix of butternut squash puree, brussels sprouts, farro, and cranberry sauce nestled in our CAULIPOWER Cauliflower Tortillas turns #TacoTuesday into the ultimate #TacoThursday.
Need one more dish to add to the spread? Pair these tasty plant-based tacos with our zesty Baja Style Rice Cauliflower and you've got yourself a well-rounded, 100% vegan, super satisfying Thanksgiving dinner for two.
It might be called "Turkey Day." But it's still "Pumpkin Season."
Pumpkin puree. Pumpkin spice. Pumpkin seeds. It's not Thanksgiving without pumpkin, and it's especially not the beloved holiday without some sweet potato. That's where our Sweet PotaTOASTS come in. Low carb, nutrient rich, and topped with pumpkin, pumpkin, and pumpkin (ok and some cinnamon and maple syrup), they're a scrumptious yet super simple way to pump(kin) up your Thanksgiving celebrations.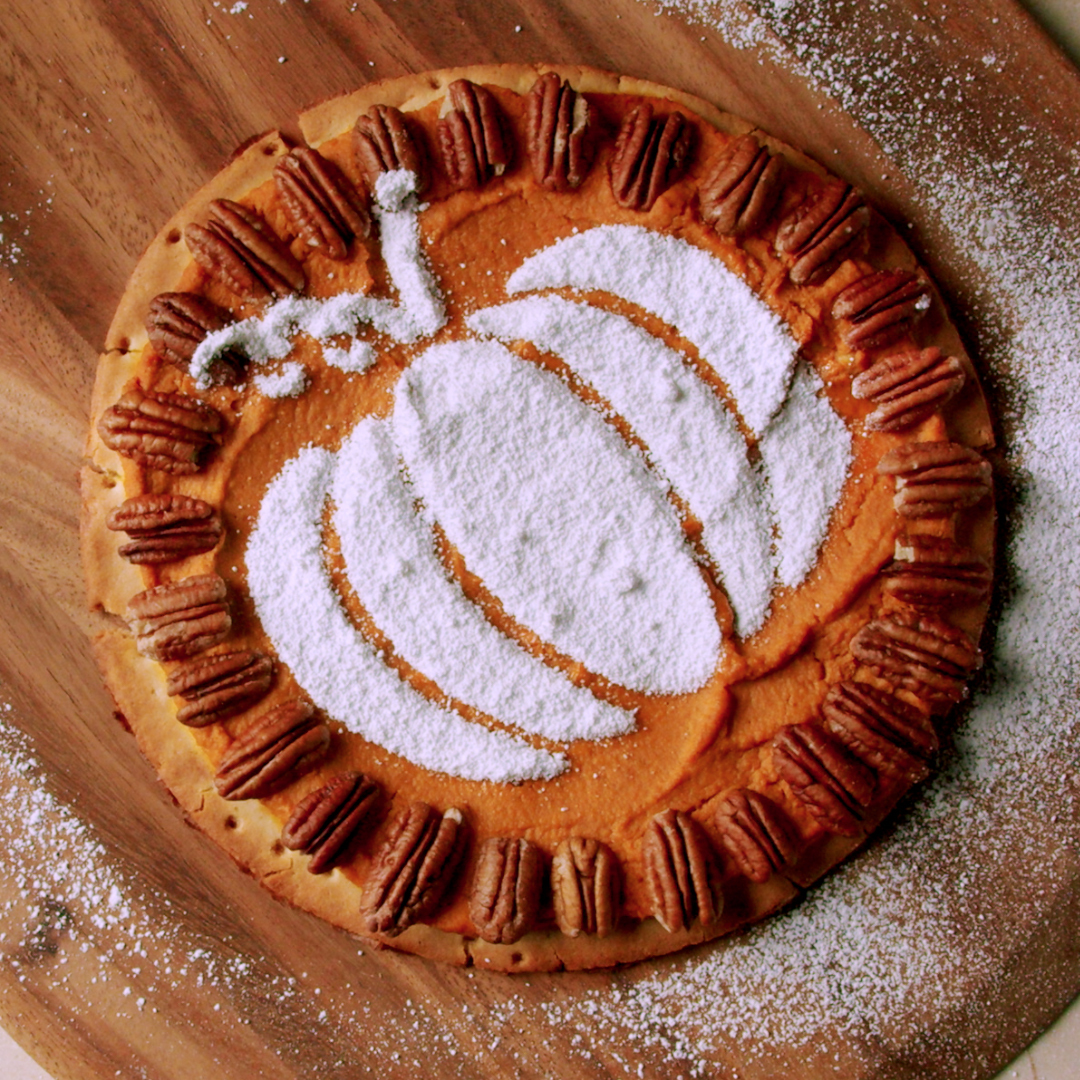 Do not fear! Pie is NOT cancelled!
As we're all eating until we have to unbutton something, make sure to save room for dessert, 'cause you don't wanna miss this tasty treat that also happens to be a healthy food swap. Pumpkin pie made with...pizza crust? Yup. Trust us. This works.
As with any good pie, this one begins with the crust – our CAULIPOWER Cauliflower Crust – serving as a crispy, flavorful base to be filled with pumpkin puree, yogurt, and cinnamon. Top it with pecans and powdered sugar and...hold on. Is your mouth watering yet? SAME.
Add this to your list of fun kid thanksgiving food ideas. But remember, this recipe is also a super fun way to bring out your own inner child no matter how many (or few) you're cooking for this year.
2020 has been a tough year for everyone, but there's still plenty to be grateful for.
We hope these non-traditional Thanksgiving dinner ideas give you and your loved ones a chance to explore new ways of cooking, connecting, and celebrating all the good things in life this Thanksgiving. That's what the holiday is all about.
One thing is for sure. We at CAULIPOWER are all incredibly grateful for you. 💚