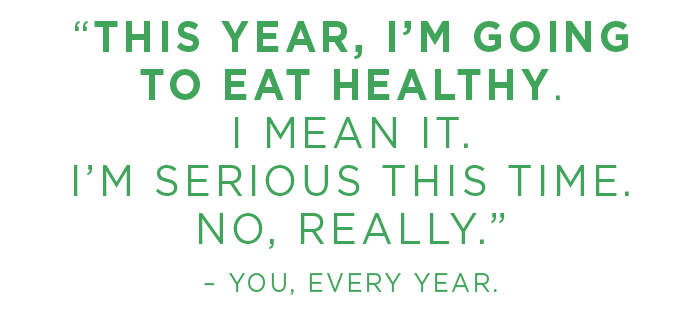 Oh, you've tried eating healthy before? Of course. We all have. And as resolutions go, it's a classic. And it's also one of the tougher ones to keep. But we keep making it!
Here's the good news: This year, sticking to your shiny new this-time-I-really-mean-it resolution won't be nearly as hard as it sounds with these easy healthy food swaps.
Because you've got CAULIPOWER, the only New Year's resolution-friendly cauliflower Pizza & Chicken Tenders.
Pizza + Chicken Tenders = healthy eating? Yup. It sounds UN-freakin'-believable (literally). But it's not.
Kick your New Year off right with delicious cauliflower pizza that's lower in calories, sugar, and fat, AND happens to be packed with the heavy-hitting nutrients and antioxidants you promised yourself 2020 would bring. Want to make your own? Add your favorite toppings to our plain or paleo crust – and yes, veggies on a pizza still count as veggies :) Pop your custom-topped master-pizza in the oven and in a few short minutes your belly will be thanking you for a tasty (that's pronounced healthy) treat.
Need another healthy food swap option? Try our yummy Chicken Tenders! These bite-sized bundles of comfort food are baked (NEVER fried) so they have the lowest calories and fat of any frozen chicken tender. With a delicious cauliflower coating packed with gluten-free goodness, these Chicken Tenders are only 490 calories for an entire bag. Seriously. 490! No Cluckin' Way!
These are healthy food swaps we can definitely get behind.
So, relaaaaaax. This is the year you can make your resolution to eat healthy and keep it. All. Year. Long. Oh, and you feel great while you're doing it.
2020 is going to be your year. Let's make it delicious!​