CAULIPOWER Chicken Tenders: with a little tender lovin' fare (sorry, we had to), we've done the impossible and made delicious Chicken Tenders with the lowest calories of any brand – oh, and they just hit the freezer aisle in a store near YOU!
At CAULIPOWER, we are on a very simple mission: to re-invent your favorite foods to be healthier, tastier and more convenient, one meal hack at a time. "Sign me up," right! But how are we doing it, and more importantly, why? Let's ask our fearless founder and CEO, Gail Becker:
When I look in the freezer aisles today, I see America's favorite comfort foods that are quick and easy to make, but often lack the nutritional value we would want. Too many additives, saturated fat and preservatives and not enough nutrients.
So I turned to the internet and saw countless people spending far too long making at home what the freezer aisles lacked. I thought, there has to be an easier, faster, healthier solution to make it reasonable for today's busy lives. For that exact reason, in 2017, CAULIPOWER was born.
We listened and hacked one of your favorite meals, Pizza, making it healthier, easier, and superfoodier. Because all of our best ideas come from, well, you, we kept going – there was still work to be done! We hacked #ToastTuesday with CAULIPOWER Sweet PotaTOASTS, the world's first superfood toast (and the best thing since sliced bread, in our humble opinion). Next, on to better-for-you wraps, tacos, and more with Cauliflower Tortillas. So, what was going to be next?
Another one of America's all-time favorite foods: Chicken Tenders! Please welcome our New Chick On The Block, CAULIPOWER Chicken Tenders, available in Original and Spicy(ish). The golden, crispy coating is veggie-forward, packed with cauliflower and other gluten-free goodness, and contains no artificial ingredients. Our chicken tenders have never-before-seen Nutritionals: the whole darn bag is only 480 calories with 86% less fat1 than any other chicken tender or nugget you'll find in the freezer aisle. They also have zero saturated fat, zero added sugar, 30% fewer net carbs, 22% more protein, and 21% more fiber than the others. The tenders are made from premium chicken, raised with no antibiotics ever.
CAULIPOWER's Chicken Tenders are already arriving in a grocery store near you. This month you'll be able to find them in Ralph's, Fred Meyer, Dillons, Fry's, QFC, Smiths, Kroger, Sprouts, Fairway, Hy-Vee, and Walmart, with thousands more rolling out over the next several months. Keep checking our store locator for the latest availability, or let the store manager at your favorite grocery store know that you're looking for a better-for-you chicken tender, and you know just the one! I think I speak for the whole CAULIPOWER team when I say, thank you for the continuous inspiration.

Gail Becker, Founder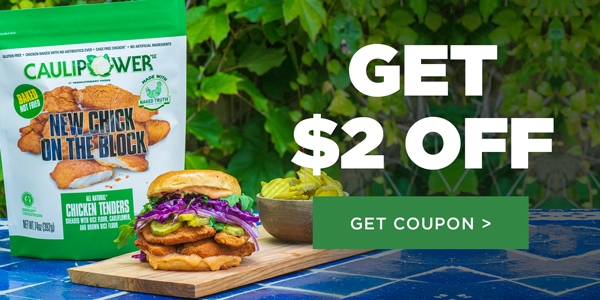 1 SPINS frozen, breaded tenders, strips, and nuggets, total US, 52 WE 3/24/2019
2 Minimally processed. No artificial ingredients.